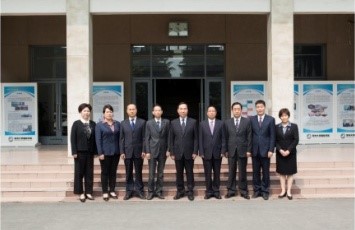 International College is a comprehensive school responsible for running the international joint programs in teaching, research and administration at Zhengzhou University. After 11 years' development, it has made a rapid progress with expanded scope of cooperation, enhanced level of education and increasingly remarkable advantages and characteristics. So far, it has turned to be a major window for the international exchange and cooperation of Zhengzhou University, and enjoys a high reputation and popularity in China.
Adapting the idea of "innovation as a model for running schools, strengthening the framework for construction and introducing uniqueness in educating" and with a vision for internationalization, the College has brought in high quality education resources from abroad, to promote the educational internationalization of Zhengzhou University and to accelerate its pace to move toward a world-class institute. This also marks a way to support the social, economic, and cultural development through the internationalized talents and intelligence. The College has built substantial cooperation with over 20 partner universities in the United States, France, Japan, Australia, Poland, Belarus, Russia, Germany and Malaysia. There are over 6,300 students enrolling in the international joint programs and student exchange programs with partner universities at undergraduate level. The College, based on its international school-running features and specialty development, offers ACCA Orientation Program, Sino-US International Experimental Program in Finance, Sino-Russian International Class in Law and Sino-German Excellent Engineer Program.
It takes the cultivation of high-end internationalized talents that are urgently needed by the society as its fundamental purpose and goal, under its student-oriented, quality-based and innovation-driven principles. Capitalizing on the strengths of the partner universities and their respective disciplines, the International College has established the School of Airport Economy, the Sino-Russian School of Culture and Art,, and the School of International Engineering. It also runs the Training Center for International Study and the Cross-Border Education Research Center of Zhengzhou University.
The School of Airport Economy is a business institute jointly organized by the International College and the Business School of Monash University with the aim of cultivating high-end internationalized talents for Zhengzhou Airport Economy Zone. It offers seven majors, namely finance, accounting, economics, international economics and trade, economic statistics, business administration and financial mathematics.
The Sino-Russian School of Culture and Art is jointly established with universities in Russia and Belarus, by integrating Zhengzhou University's advantages as a founding member of the Sino-Russian culture and art university alliance. It aims to develop internationalized talents embracing both Chinese and Russian (Belarusian) cultural backgrounds for the implementation of China's Belt and Road Initiative. This School has such majors as musical performance, law, visual communication design, network and new media.
The School of International Engineering is a science and engineering school that aims to train elite engineers and other talents with international influence and competitiveness in the field of engineering technology. It opens eight majors, namely computer science and technology, electronics and information engineering, communication engineering, materials science and engineering, mechanical engineering, civil engineering, nursing, mathematics and applied mathematics. In 2018, the Zhengzhou University decided to establish an engineering school under the International College on its North Campus. All engineering students admitted to the School of International Engineering in 2018 were placed to study over here.
The Training Center for International Study is a specialized training organization for overseas study, established by Zhengzhou University in 2008. The Center offers language training programs in IELTS, TOFEL, Russian, Korean and Spanish, runs international undergraduate and graduate preparation courses, and provides quality services for students to study abroad.
The Cross-Border Education Research Center serves as a scientific research institution set up by Zhengzhou University and a think tank of cross-border education for the Education Department of Henan Province. It aims to explore the rules, patterns, policies and laws on cross-border education, bringing more global and forward-looking research achievements, providing theoretical service and intellectual support for the cross-border education in Henan and China at large.
International College is located at two campuses, the South Campus on No. 75 Daxuebeilu Road, Zhengzhou and the North Campus (for engineering students admitted in 2018) on No. 97 Wenhua Road, Zhengzhou.